station Pertisau - Vitalberg - Tirolean Shale Oil Museum
Summer stories with Emperor Maximilian I
Thyrsus and Haymon

Roughly 40 million years ago organic sediments fossilised through the pressure of the alpine mountain formation (orogenesis) and created oil shale. This process has been researched thoroughly by modern science.

For the people of the Middle Ages, however, this oil bearing shale was a complete mystery. How did the oil get into the hard rock? Tyrolean shale oil has been mined since the 14th century. However, the legend about its origin is much older.

Long ago in times of legend a giant named Haymon came from the Rhineland to Tyrol. He towered above any other human and was much stronger than all of them. During that same time a second giant, who called himself Thyrsus, lived in Seefeld in Tyrol. When he heard about the arrival of Haymon, he became angry. He did not want to tolerate another settling in his mountains, which is why he started to think about ways of how to get rid of the foreigner. But Haymon, too, had heard of his opponent and his scheming. Furious, he took off and travelled along the shores of the Inn river into the Tyrolean Oberland. Behind Zirl, on sunny pastures – today the place is called Dirschenback – he encountered Thyrsus and attacked him with his massive sword. Surprised, Thyrsus looked around for a weapon, ripped a birch tree that stood next to him from the ground, and started defending himself. The ferocious hits could be heard far and wide in the valleys and on the mountains, and in the forests the trees were shaken deep down in their roots. Just then, Haymon stabbed his adversary deep in his heel, causing bright blood to spurt forth. Thyrsus was able to flee into the Karwendel Mountains, but lost a lot of healthful blood, which seeped into the rock. Many years later, farmers discovered the medicinal Dirschen oil (Thyrsus blood) and ever since, it has been used as a folk medicine against many different diseases in humans and animals.

(cited from: Tiroler Steinölwerke, www.steinoel.at)

Extraction and Properties of Shale Oil

The mining of oil shale at Lake Achen is inseparably connected to the Albrecht family from Pertisau. In 1902, Martin Albrecht senior discovered the first oil shale at Lake Achen. For over 15 years he was mining the rock by hand, together with two pitmen. The oil shale was then heated to allow the Tirolean shale oil to flow out. Since 1908, oil shale has been extracted from a more productive deposit in the Bächental valley at 1500 metres above sea level. Seven million tonnes of oil shale are said to still lie hidden deep in the Bächental.

The effect of Tirolean stone oil is based on its high amount of sulphur content, which has a soothing effect on skin diseases and rheumatic complaints. Tirolean stone oil is used for special cosmetics, as well as medicinal and wellness products.

There is a lot to learn about Tirolean stone oil that is worth knowing and marvelling at. The audio-visual exhibition in the unique Vitalberg adventure museum will make your visit an unforgettable experience!

More information to the Lake Achensee interactive audio tour experience.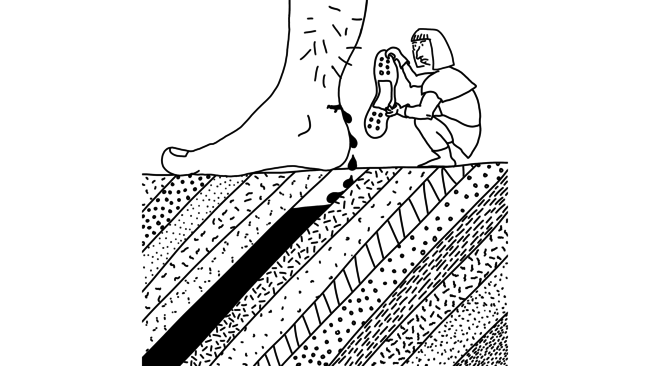 Achensee Toursimus
Achenseestraße 63
6212 Maurach am Achensee
info@achensee.com