Willkommen am Durrahof!
Unser Bauernhaus Durrahof ist familienfreundlich ausgestattet und befindet sich in ruhiger Lage abseits vom Dorf, in Steinberg am Rofan. Ein Spielplatz und eine Liegewiese sind direkt vor dem Haus. Zahlreiche Sommer- und Winterwanderwege sind in Steinberg leicht erreichbar und erlebnisreichen Tage steht nichts mehr im Wege. Unsere zwei Ferienwohnungen Familiennest und Guffert und das Doppelzimmer Rofan sind liebevoll eingerichtet.
Wir freuen uns , wenn wir Sie bei uns in Steinberg begrüßen dürfen und heißen Sie bei uns am Durrahof herzlich willkommen.
Ihre Familie Neuhauser
Additional information
Kinder von 0 - 5 Jahren im Doppelzimmer sind frei. Weitere Kinderermäßigungen auf Anfrage!
Haustiere sind nicht erlaubt!
Achtung: Bitte beachten Sie, dass bei einem Winterurlaub eine Winterausrüstung (Winterreifen und Schneeketten) für Ihr Fahrzeug notwendig ist.
Anreise: 16:00 bis 20:00
Abreise: bis 10:00
Wir freuen uns auch gerne jederzeit auf Ihren Anruf!
Hotspots
Distance from Lake Achensee: 18 km
Distance from ski area: 4 km
Distance from cross-country ski run: 4 km
Distance from golf course: 15.2 km
Atoll Achensee: 26.9 km
Distance from shipping pier: 18.5 km
Map
Bauernhaus Durrahof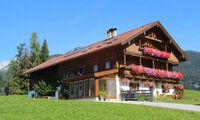 Hnr. 13
6215 Steinberg am Rofan
Inntal Motorway A12 (toll sticker required), exit Wiesing/Achensee, Achensee-Bundesstraße B181, after 7 kilometres in the centre of Maurach continue along the Achensee to Achenkirch and turn off at the Steinberg junction towards Steinberg am Rofan.
It is also possible to travel toll-free via the Achen Pass or Bad Tölz. From Munich to the motorway exit Holzkirchen, Tegernsee, Achenpass or Bad Tölz - continue across the state border to Achenkirch and turn off at the Steinberg junction towards Steinberg am Rofan.
Arrival by public transport: Take the train to Jenbach station. From there take the public bus to the Achensee. See bus timetable
www.vvt.at
. The journey to the Achensee is free of charge upon presentation of your reservation confirmation.
The nearest airports are Innsbruck (50km), Munich (approx. 140km) and Salzburg (approx. 150km). Transfers from the airports of Innsbruck, Salzburg or Munich can be ordered from: Taxi Kröll in Maurach, Tel. +43(5243)43280 -
www.taxikroell.com
or at the airport transfer service Four Seasons Travel - bookable online, Tel. +43(512)584157 -
www.tirol-taxi.at
.
Bauernhaus Durrahof
Neuhauser Hilde
Hnr. 13
6215 Steinberg am Rofan