Steinberg - Kögljoch - Achenkirch
Important Infomation
🜏
altitude meters uphill
470 hm
🔲
altitude meters downhill
600 hm
🏀
Route Time Total
04:00 h
Starting Point:
Steinberg, car park Rofanlifte II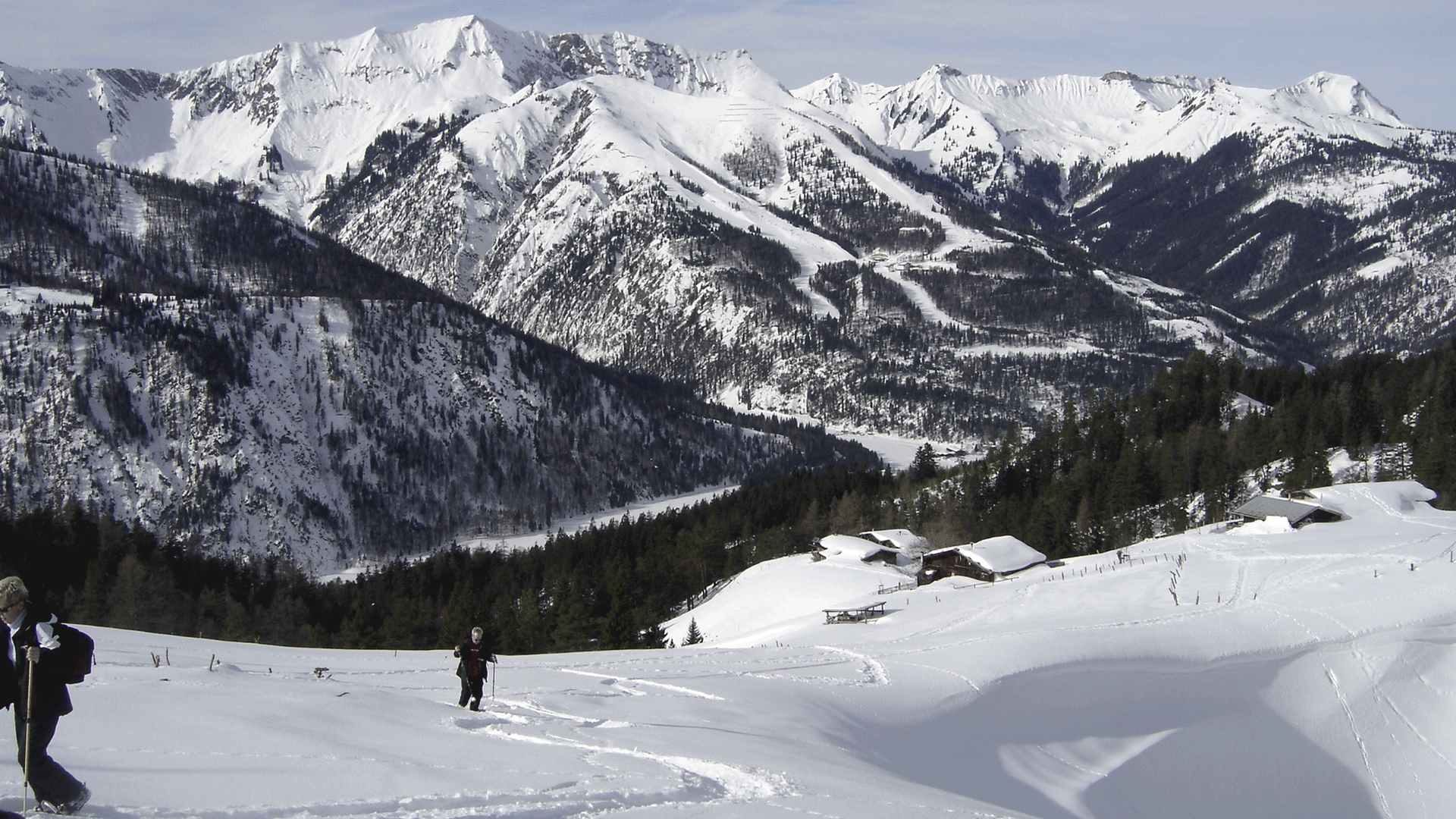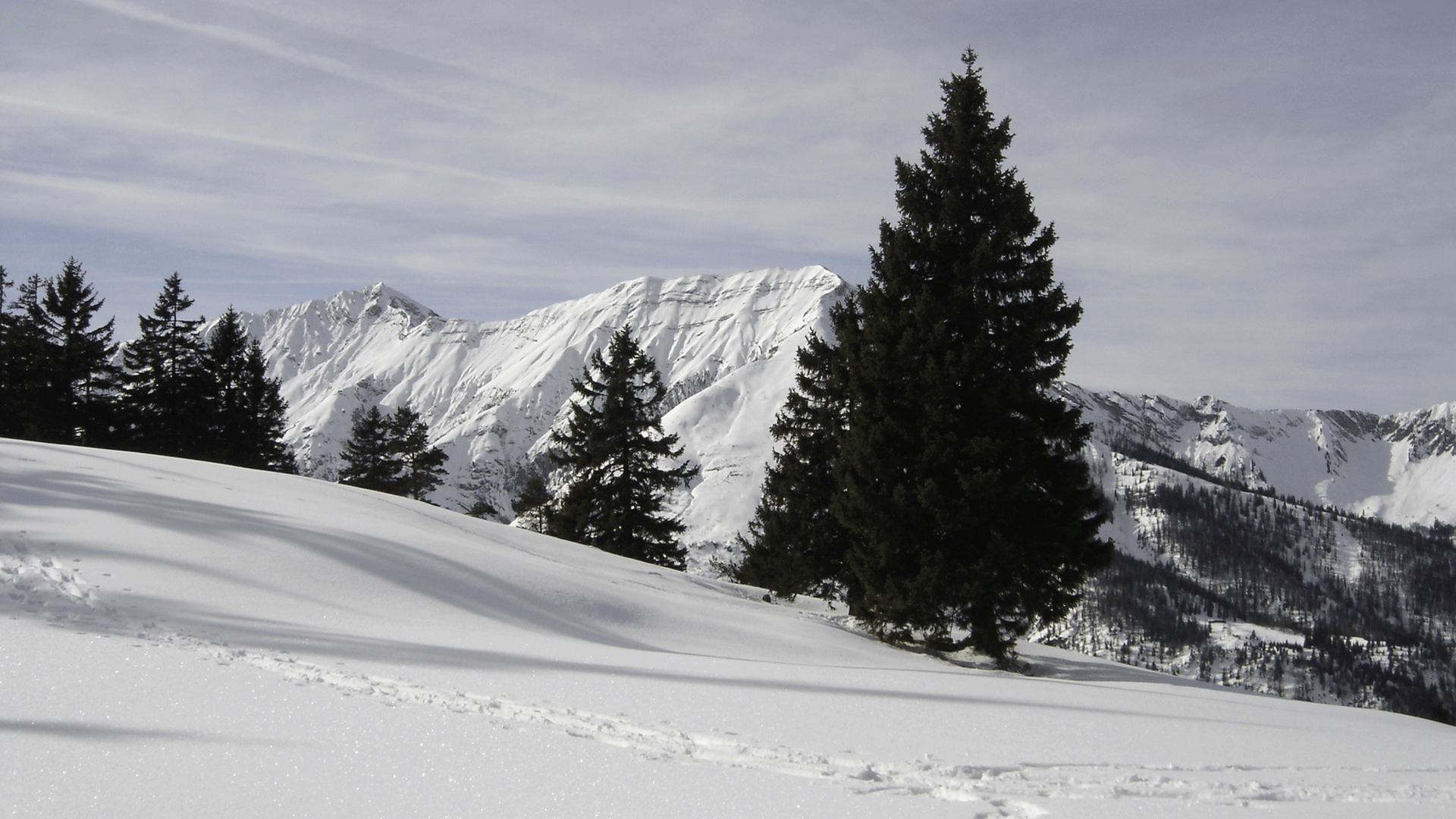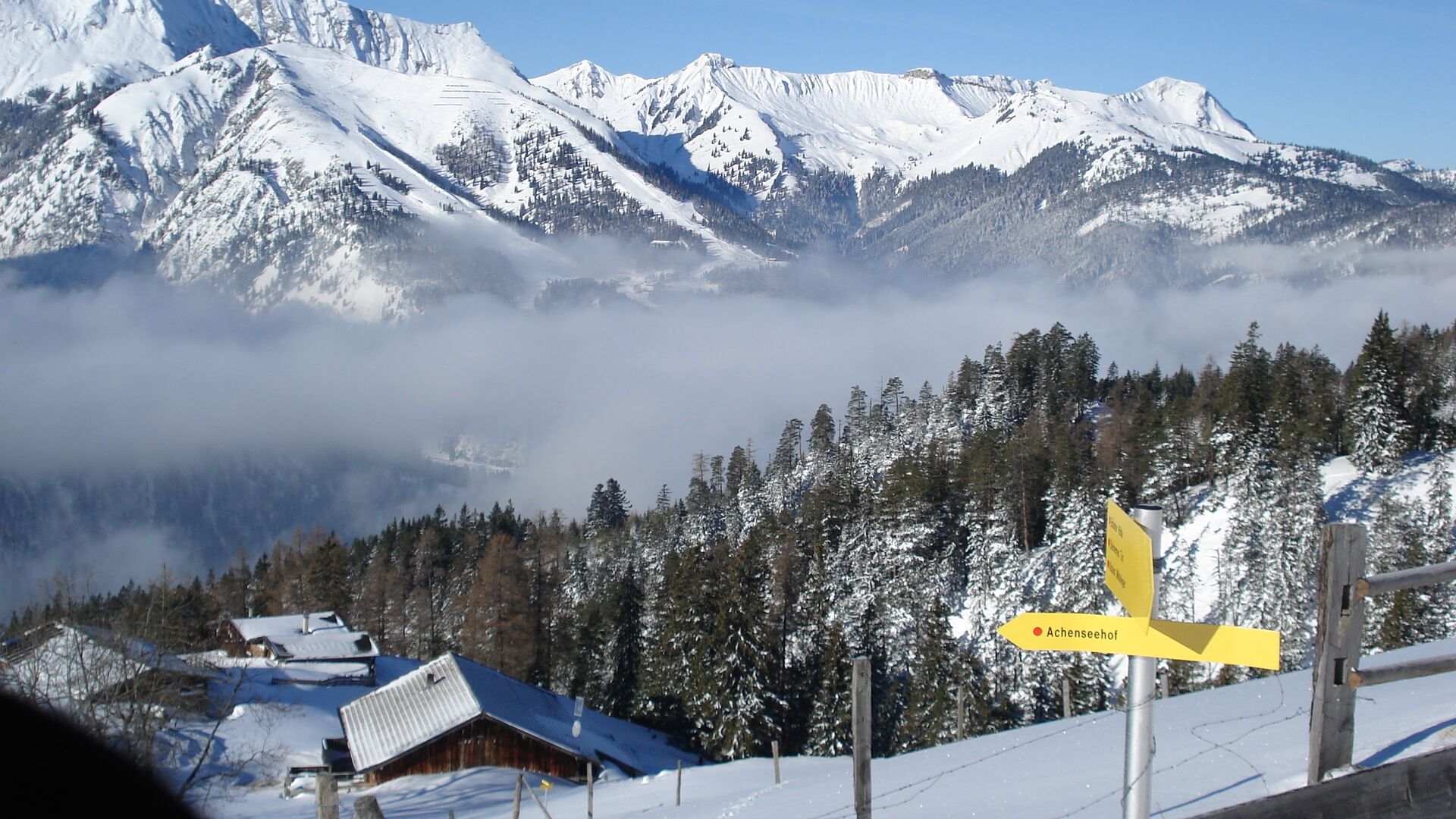 Description
We recommend taking the free regional bus to Steinberg am Rofan (bus stop: Steinberg a. R. Rofanlift II). The snowshoe tour starts from the car park at an elevation of 1,030 metres. Walk uphill for ca. 200 metres along the right edge of the ski slope, then follow the track on the right, usually recognisable by tracks in snow, into the forest. Continue along this path, the Gfaßkopf path, for ca. 300 metres until you reach a large deer feeding station (please respect wildlife). Walk past the feeding station and follow the trail as it climbs steeply through a ditch to the Gfaßssattel (1,226 metres). Continue along the forest path which is not cleared, walk in a westerly direction, and follow the trail as it travels up and down towards the Schönjochalm. A little before another large deer feeding station the trail joins the Schönjochtalstraße.

Follow this road and after ca. 15 minutes you arrive at the Schönjochalm (1,287 metres, only open in summer). Continue in a westerly direction towards the Kögljoch. The wide forest path turns into a narrow trail which is getting steeper. In deep snow, signposts are barely visible. The trail climbs by way of switchbacks to the saddle, where an ombrometer (precipitation gauge) has been installed at the highest point (1,487 metres). After a few minutes, the forest affords views of Lake Achensee and the Karwendel mountains. Finally, you arrive at the highest hut, the Köglalm (1,428 metres, only open in summer), where you can take a break. Follow the Köglweg in a northerly direction, walk past hidden hunting lodges and the Kaiser-Maximilian-Rast and descend to Achenkirch until you reach the Achensee main road. Walk across the road to the junction Christlum (near the Spar market) and continue to the bus stop. Travel back to the bus stop "Abzweigung Steinberg", change buses and return to starting point at the Rofan lifts II.