The refreshing 4-star hotel in Pertisau that we, three girls, are allowed to run with passion. Spring, summer, autumn and winter. Almost the whole year. For you. Always keeping an eye on things so that everything exceeds expectations during laid-back mountain holidays. Your holidays. In the house at Lake Achensee in Tyrol which contains a lot of family.
We, this is the Kirchmair family, aka Wognerer. House of the three girls, as some call it, or the blond chain of three. When they talk about us. Not only behind our backs. We three, mother Andrea and the two "children" Monika and Claudia, are in charge of taking care. Of you, of all your wishes, of a charming holiday. And of course, of the house into which we do not only pack all our energy but above all our heart. Hoping that you will feel it.
Additional information
Haustiere sind auf Anfrage gegen eine Gebühr willkommen.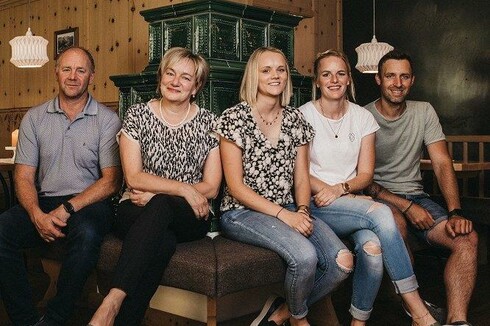 your host
In our family-run 4-star hotel with its own farming you experience genuine hospitality that comes from the heart. Surrounded by meadows and just a stone's throw away from the Achensee lies our holiday dream, where you can expecting the following:
Come and feel at home, experience friendliness and the informal ambience of the hotel and its surroundings.
Rest and relax in our spacious wellness area with saunas.
Enjoy culinary delights in our comfortable restaurant.
Be active, have fun moving and draw energy from nature.
We look forward to preparing an unforgettable holiday experience for you at the Achensee.
The Kirchmair family
with the team of the Wagnerhof
Andrea Kirchmair
Location
right at the cross-country ski trail
hiking trail distance (m)
Hotspots
Distance from Lake Achensee: 0.3 km
Distance from ski area: 0.5 km
Distance from cross-country ski run: 0.1 km
Distance from golf course: 0.4 km
Atoll Achensee: 6.3 km
Distance from shipping pier: 0.4 km
Map
Hotel Wagnerhof

Wagnergasse 2
6213 Pertisau am Achensee
Pertisau liegt auf 952 Meter Seehöhe am Westufer des Achensees und ist von Deutschland wie Österreich bestens zu erreichen. Die knapp 600 Einwohner zählende Ortschaft besticht durch ein schmuckes Ortsbild und einer lebendigen Uferpromenade, die zum Flanieren und Genießen einlädt.
Anreise nach Pertisau:
Inntalautobahn A12 (Vignettenpflicht), Ausfahrt Wiesing/Achensee, Achensee-Bundesstraße B181, nach 7 Kilometern im Zentrum von Maurach nach Pertisau abbiegen. Oder Sie nehmen die mautfreie Anreise über den Achenpass oder Bad Tölz. Von München bis zur Autobahnausfahrt Holzkirchen, Tegernsee, Achenpass oder Bad Tölz - die Staatsgrenze passieren und über Achenkirch nach Maurach und den Schildern nach Pertisau folgen.
Anreise mit den öffentlichen Verkehrsmitteln: Mit dem Zug zum Bahnhof Jenbach. Von dort mit dem öffentlichen Bus an den Achensee. Siehe Busfahrplan www.vvt.at. Die Anreise zum Achensee nach Pertisau ist unter Vorzeigen Ihrer Reservierungsbestätigung kostenlos.
Vom Flughafen Innsbruck bieten wir auf Anfrage und gegen eine Gebühr von EUR 100,- einen Abholservice direkt zu unserem Hotel an.

Hote Wagnerhof - Kirchmair GmbH
Kirchmair Andrea
Wagnergasse 2
6213 Pertisau am Achensee