Herzlich willkommen! Die Appartements - Achensee liegen ein paar Schritte vom Ortszentrum entfernt inmitten von Wiesen, nahe des Badestrandes und aller Tourismuseinrichtungen wie Hallenbad, Tennis, Seilbahn, Zahnradbahn, Schiffahrt. Im Winter: Gondelbahn, Schilifte, Langlaufloipen, Rodelbahn, Eislaufplatz usw. Erholsame Ruhe und eine herrliche Aussicht auf den See und das reizvolle Rofan - u. Karwendelgebirge geben dem Haus den besonderen Erholungswert. Die Panoramaverglasung von Wand zu Wand in jedem Wohnraum, gibt einen herrlichen Blick auf die Gebirgslandschaft und den See frei.
Breite Balkone bzw. Gartenterrassen, große Liege und Spielwiese mit Grillplatz und Kinderspielplatz umgeben das Haus. Die Wohnungen sind komfortabel - rustikal ausgestattet. Ein großes Spielzimmer erfreut die Kinder. Die Zweizimmerwohnungen im Parterre sind für Rollstuhlfahrer gut geeignet.
Ausreichende Parkplätze befinden sich direkt beim Haus. In der Nebensaison sind auch tageweise Buchungen möglich.

Facilities
Hotspots
Distance from Lake Achensee: 1.1 km
Distance from ski area: 0.9 km
Distance from cross-country ski run: 0.4 km
Distance from golf course: 4.6 km
Atoll Achensee: 1.8 km
Distance from shipping pier: 1.5 km
Map
Appartements Achensee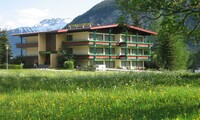 Wiesenweg 4
6212 Maurach am Achensee
Take the motorway A12 (toll sticker required), exit at Wiesing/Achensee and follow the Achensee federal road B181 until you reach Maurach after 7 kilometres. Toll-free journey is possible via Achenpass or Bad Tölz. From Munich, follow the motorway and exit at Holzkirchen, then continue via Tegernsee and Achenpass or via Bad Tölz to the national border. Follow the road to Achenkirch and drive to Maurach.
Getting here by public transport: Take the traain to the train station Jenbach. From here, Lake Achensee is just a short bus ride away, see bus timetables at www.vvt.at. Your reservation confirmation is your free bus ticket to Maurach.
The nearest airports are Innsbruck (50km), Munich (ca. 140km), and Salzburg (ca. 150km). You can pre-book transfers to and from all airports with Taxi Kröll in Maurach, Tel. +43(5243)43280, www.taxikroell.com or with the airport transfer service Four Seasons Travel Tel. +43(512)584157, www.tirol-taxi.at.
Appartements Achensee
Spiegl Christian
Wiesenweg 4
6212 Maurach am Achensee