Eagle Walk Stage 12: Hallerangerhaus - Innsbruck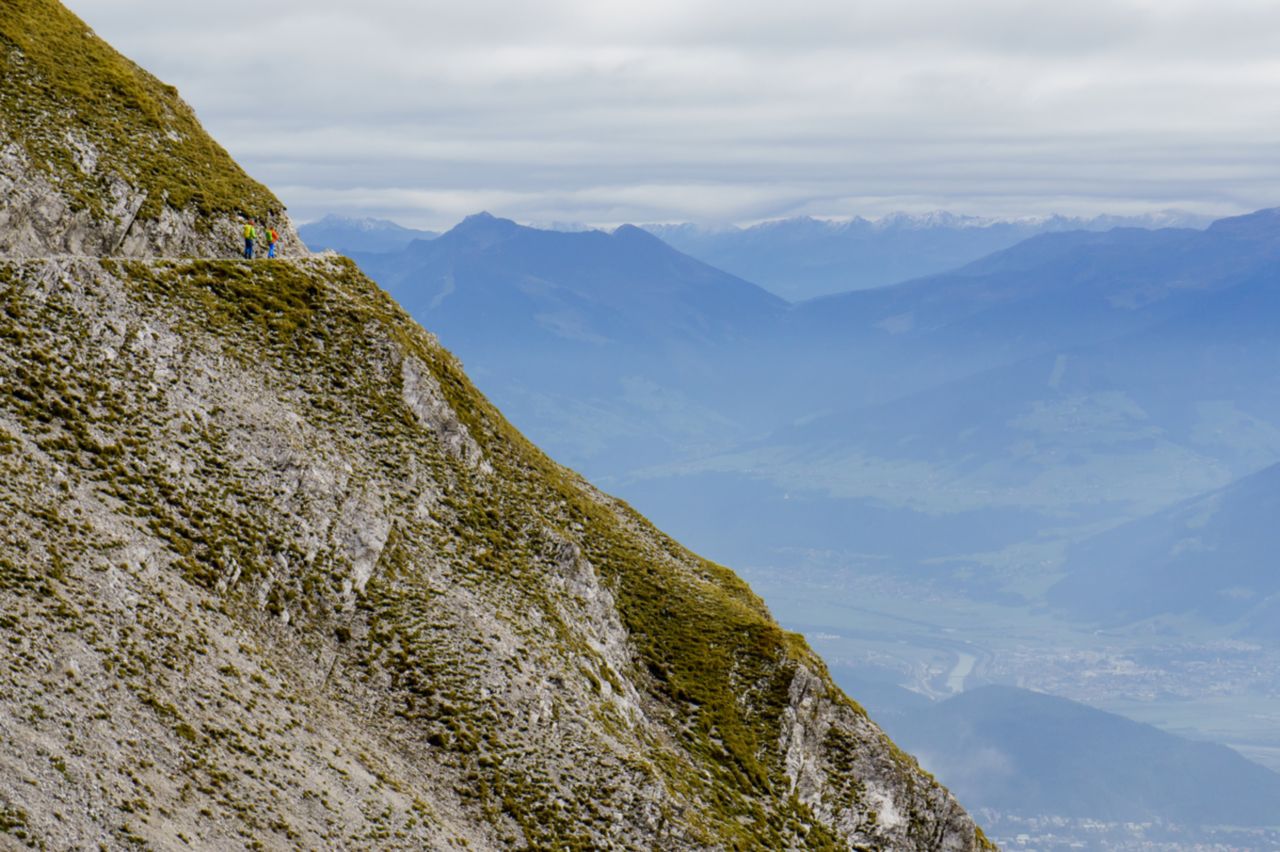 Description
​

trail description: From Hallerangerhaus Lodge follow the footpath towards "Lafatscher Joch". The path takes you through a scree and talus field that is getting steeper and narrower as you walk along. The trail will then lead to the so-called "Durchschlag" (here the old mule-track was built into the rock) and you will pass a cross before reaching a plateau (where you will find a turnoff towards Speckkarspitze Peak). Walk across the plateau to the north and you will soon reach Lafatscherjoch Saddle. At the saddle, follow signage to "Pfeishütte". This trail is a gentle downhill stroll. Follow signage to "Pfeishütte" and/or "Pfeishütte über Wilde-Bande-Steig". The pristine Wilde-Bande-Steig Trail is a gentle ascent taking you along dwarf pines and across gullies until you reach the entrance to the cirque below Stempeljoch Saddle. Follow signage to "Stempeljoch" and/or "Pfeishütte". You have to master steps made of planks and ropes. The trail is getting steeper, while the unstable scree ground will be easier further uphill. Turn right at the saddle and stroll down along meadows and Alpine pastures towards Pfeis Hut.

The way-marked Goetheweg Trail (No. 219) has its trailhead at the hut. The trail is a gentle ascent to the basin south of the shelter. Follow the next turnoff towards "Mandlscharte" and/or "Hafelekar Bergstation", then take the right fork (to the left the trail branches off towards Arzler Scharte) and a wide loop will take you uphill crossing a scree and talus slope to gain Mandlscharte Notch. The descent on the backside leads through talus before merging into a well-maintained and rather broad path that evenly crosses the talus beneath rock faces. This section offers a scenic view of the backside of lofty Nordkette Range. After a short climb, the trail changes to the side of the Inntal Valley, where a few switchbacks will take you downhill. This is followed by a gentle ascent along an excellent path on the grassy southern flank of Nordkette towards the west until you reach Hafelekar Top Terminal. Always follow signage to "Hafelekar Bergstation" and/or "Goetheweg". This final section of the trail meanders from the north to the south side of the ridge time and again.

You'll make your way around and up the cliffs along Goetheweg Trail assisted by a fixed anchoring system of cables.

Ride Nordkettenbahn Gondola and space-age Nordkette Funicular down to the heart of Tirol's lively capital Innsbruck. An alternative route is to walk downhill, and visit the Alpine Zoo on your way down.