Diving - Hechenberg north
This dive lets you explore three VW Beetle wrecks. The diving spot is located at the beginning of the incline to the Hechenberg (the only notable incline in the road between Achenkirch and Maurach). The access is ca. 50 metres before a wayside cross on the left side of the road. Swim south for ca. 3 minutes, then descend to a depth of ca. 10 metres and continue in a southerly direction until you spot the first of three VW Beetle wrecks. The second wreck is 20 metres ahead at a depth of 8 metres and the third one right below.

This shallow dive is also suitable for beginners.

Tip: Most divers bring collapsible trolleys to haul their diving equipment over the last few metres to the lake. Alternatively, you can rent a boat to get to the buoy which marks the dive spot.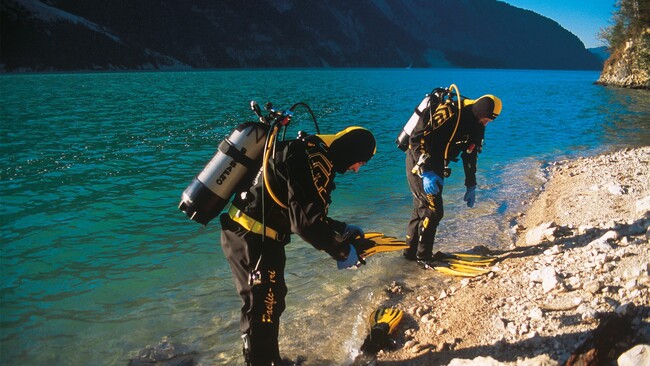 Seeverwaltung Achensee
Maria-Theresien-Straße 18
6020 Innsbruck
seeverwaltung-achensee@innsbruck.gv.at